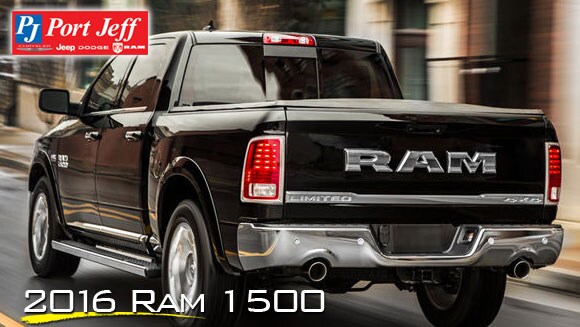 2016 Ram 1500 Offers Best-in-class Fuel Efficiency.
MPG is important to drivers from Smithtown, Coram, Brookhaven, Patchogue, Setauket, and all over Long Island, and the 2016 Ram 1500 leads pickup truck fuel economy with the exclusive 3.0-liter EcoDiesel V-6 engine delivering 240 horsepower and 420 lb.-ft. of torque at 29 miles per gallon (mpg).

The 3.0-liter EcoDiesel engine is mated to the TorqueFlite eight-speed automatic transmission. Together, the powertrain system delivers an outstanding combination of fuel efficiency and towing capability up to 9,200 pounds.

Ram Truck offers the best value in half-ton trucks with a starting price of $25,410, plus $1,195 destination, and includes a standard 5.7-liter HEMI® V-8 engine. The exclusive 3.0-liter V-6 EcoDiesel engine with the TorqueFlite eight-speed automatic transmission is priced $3,120 greater than a similarly equipped Ram 1500 with a 5.7-liter HEMI V-8 engine with the TorqueFlite eight-speed transmission.

The 2016 Ram 1500 capitalizes on a truckload of exclusive, pioneering, fuel-saving systems, including an eight-speed automatic transmission, thermal management system, pulse-width modulation (PWM) and active aerodynamics with grille shutters and air suspension.

The Ram 1500 continues to move forward with two mid-year 2015 offerings that carry into the 2016 model year - the Ram 1500 Rebel and Ram 1500 Laramie Limited.

The Ram 1500 Rebel brings a one-of-a-kind off-road design to the full-size truck segment, offering an off-road-style package. The Rebel drops right into a core segment of the truck market with unique design cues and mechanical innovation backed by Ram Truck engineering.

Rebel features an all-new grille with a prominent billet silver "RAM" letter badge. Departing from the brand's iconic "crosshair" designs, the blacked-out Rebel grille tops a completely new black off-road front bumper design with a durable powder-coated surface. It also incorporates a powder coated, billet silver skid plate, front tow hooks and an all-new 17-inch aluminum wheel.

Inside, Rebel is every bit as brawny and rugged as it is outside, featuring dramatic, industry-exclusive seating elements. High-durability technical-grain vinyl seats are finished in Radar Red and black with Sedoso fabric inserts embossed with the Toyo tire tread pattern, matching the Rebel's actual footprint. Standard heated front seats feature Light Diesel Gray accent stitching, Radar Red Ram's head embroidery on the headrests and black with Light Diesel Gray Rebel nameplate embroidered on the upper seat bolsters.

Ram Truck brand also has taken the Ram Laramie Limited - the benchmark in truck opulence - to an even higher level of sophistication and attention to detail. Featuring premium materials, such as all-black, full-leather seating; real wood interior components; and unique badges, Limited is a "black-tie" luxury alternative to the popular southwestern-themed Laramie Longhorn edition pickup.

The Limited's all-new grille is the most prominent change of the exterior. As the leading point, its new billet port grille breaks from the long tradition of crosshair styling with bold "RAM" lettering. Limited also features an all-new 20-inch forged multi-surface aluminum wheel - unique in the truck market.