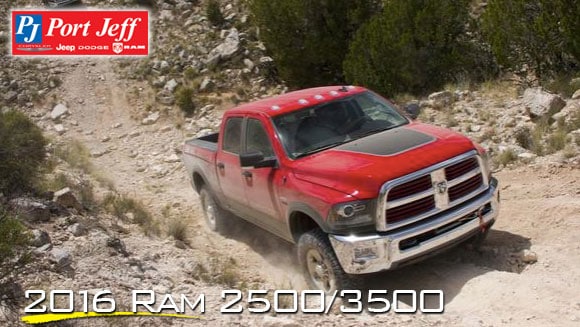 2016 Ram Heavy Duty Trucks King of the Hill Holds Best-in-class Titles in the Areas Most Important to Customers.
The Ram Truck Brand's goal is to build the best trucks in the industry. In the heavy-duty pickup segment, that equates to the best capability, highest towing and most power. In 2016, Ram continues to offer the most capable three-quarter and one-ton pickups in the segment.

So, when it's time to buy a new truck on Long Island, Ram delivers on customers' top "why buys."

Here's what Ram enthusiasts from Brookhaven to Port Jefferson to Riverhead are looking for:
Power 900 lb.-ft. of torque with 6.7-liter Cummins
Towing Up to 31,210 pounds with Ram 3500
Towing Up to 17,980 pounds with Ram 2500
Payload Up to 7,390 pounds with Ram 3500
Power 410 horsepower and 429 lb.-ft. of torque with 6.4-liter HEMI V-8
Capacity Gross Combined Weight Rating (GCWR) of 39,100 pounds with Ram 3500
Ram
2500
and
3500
Heavy Duty trucks offer more innovative features than the competitors' trucks, including a five-link coil suspension with optional air suspension on Ram 2500 and a supplemental air bag suspension option on Ram 3500.
The 2016 model year brings a new
Ram Laramie Limited
design offering. The benchmark in truck opulence is taken to an even higher level of sophistication and attention to detail. Featuring premium materials, such as all-black, full-leather seating, real wood interior components and unique badges, Limited is a "black-tie" luxury alternative to the popular southwestern-themed Laramie Longhorn edition pickup.

Heavy-duty trucks generally have suspension equipped for constant, heavy payloads. This can result in a harsher ride when unloaded. The Ram 2500 offers a choice between two segment-exclusive rear suspensions for best-in-class ride and handling: a five-link coil system or air suspension system.

The five-link coil design provides better articulation over obstacles than a leaf spring system, and the robust coil springs are more than up to the task of handling the loads required of the Heavy Duty Ram 2500 up to a segment-best 17,980 pounds for towing.

The Ram 2500 also offers a rear air suspension system. An air bag replaces the coil spring, much like on the Ram 1500. Load capacity is not sacrificed and the Ram 2500's best-in-class ride and handling gets even better, crushing the competition with two doses of engineering innovation five-link coil standard and air suspension option. Another benefit to the air suspension design is the load-leveling capability, which automatically detects load on the rear suspension from a trailer or payload. The air pressure increases until the vehicle reaches normal ride height, leveling the truck and improving stability and loaded ride.

The Ram 3500 continues to utilize the rear Hotchkiss leaf spring system, but now offers a supplemental air suspension system on single rear-wheel (SRW) and dual rear-wheel (DRW) applications. By adding supplemental air bags to the rear suspension, Ram Truck engineers were able to soften the leaf springs, allowing for more unladed suspension movement. When a high-load capacity condition exists, the air suspension automatically fills the rear air bags to level the truck to improve stability and ride quality even when pulling a best-in-class 31,210-pound load.
Port Jeff Chrysler, Dodge, Jeep, Ram has the complete lineup of Ram Heavy Duty trucks that deliver best-in-class horsepower, and class-exclusive technology.