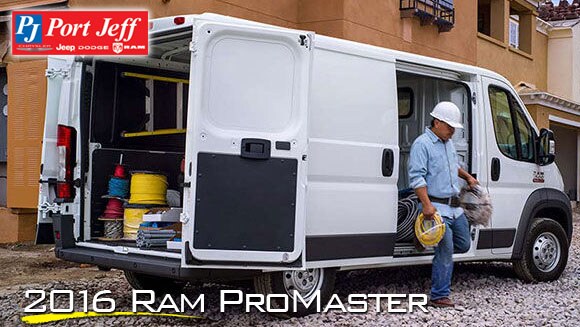 2016 Ram ProMaster Adds New Features Driven by Commercial Customer Input.
The 2016 Ram ProMaster continues to answer the call of businesses all over Suffolk County, Long Island as it solidifies its place in Ram Commercial's popular truck and van lineup. The 2016 model continues Ram Commercial's commitment to upfitter friendliness with new features driven by customer input.

Airport and hotel shuttle customers and mobility upfitters across Long Island requested a window version of the largest ProMaster configuration. The 2016 Ram ProMaster now adds side window availability to the 159-inch, high roof, extended configuration.

RV upfitters and executive transportation companies asked for upscale appearance. Ram ProMaster delivers with a chrome grille option.

Upfitters also sought more electrical function and capability when adding power-hungry conversions. Again, Ram ProMaster answers with provisions for a second battery at the rear of the cab and new 20-amp auxiliary switches easily accessible on the dash panel.

ProMaster has experienced great success in an expanding, purpose-built, full-size van segment with a number of best-in-class features focused on commercial truck customers from Northport to Riverhead.

ProMaster boasts numerous best-in-class features, which are appreciated by the hardworking customers of Ram's full-size van. Best-in-class fuel efficiency, usability and impressive total cost of ownership all combine to deliver a proven solution for businesses and fleets.

Ram Commercial will continue to have a larger presence in commercial vehicle segments. ProMaster supports the Ram Brand strategy to offer a one-stop shop for their large truck and van fleets. Ram's ProMaster and ProMaster City vans enhance the brand's commercial offerings, which include the brand's line of Tradesman pickups and Chassis Cab trucks.

Conceived and developed in Italy, the ProMaster also spent quality time proving itself on this side of the Atlantic undergoing extensive, extreme-duty testing. Engineering the ProMaster for the Ram Truck brand required a number of changes in capabilities, powertrain, environments, duty cycles and customers.

The ProMaster is available in two roof heights, three wheelbases and four body lengths. Additionally, the ProMaster offers both a chassis cab and cutaway from the factory. Its unibody frame architecture makes it significantly lighter than the competition. As a result, the ProMaster boasts an impressive best-in-class payload capacity up to 5,160 pounds and a maximum towing capacity up to 5,100 pounds. The gross combined weight rating (GCWR) for the 3.6-liter Pentastar V-6 is 11,500 pounds and 12,500 pounds for the 3.0-liter EcoDiesel I-4. A unibody structure has additional advantages, including stability and strength from front to rear, a reinforced plenum area for optimized engine packaging, and "truer" tuning of chassis systems and related hardware when compared to more common body-on-frame applications.

The unibody system under the cab is an enabler for the ProMaster's segment exclusive front-wheel-drive system. The body-integral construction and multiple configurations allow Ram's ProMaster to be upfitted for virtually every conceivable job. Without rear driveshafts or rear differentials, the proven drive system creates a number of advantages.