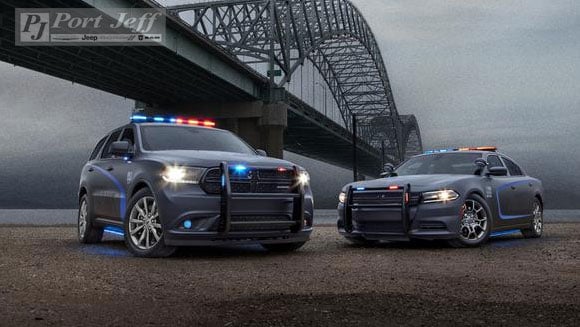 2018 Dodge Durango- Police Pursuit Version Hits The Streets.
Dodge has announced it is expanding its police vehicle lineup, adding a new Pursuit version of its Dodge Durango. The new
2018 Dodge Durango Pursuit
is powered by the legendary 5.7L HEMI® V-8, coupled with a full-time, active all-wheel-drive (AWD) system. This is the same powertrain combination most commonly deployed in the Dodge Charger Pursuit, the top-selling police sedan in the U.S. market.
While the general public may not be able to get behind the wheel of a
Durango
or Charger Pursuit vehicle, they can hit the roads of
Setauket, Stony Brook, Lake Grove and Ronkonkoma
in the driver seat of a Dodge Durango or Charger equipped with a powerful 475hp Hemi that is sure to raise some eyebrows.
"Unofficial testing results at the Michigan State Police 2018 model-year vehicle evaluation event created such a stir among law enforcement agencies that we simply had to find a way to build this vehicle," said Steve Beahm, Head of Passenger Car Brands, Dodge//SRT, Chrysler and FIAT – FCA North America. "The Dodge Durango is already known as the Charger of SUVs, so it is only natural that the new Durango Pursuit complements the Charger Pursuit in police fleets across the country."
The 2018 Durango Pursuit also offers a two-speed transfer case for true low-range off-road capability and incorporates larger, heavy-duty anti-lock brakes that deliver a 60-0 mile per hour (mph) stopping distance of 134 feet.

For more than 100 years, the Dodge brand has carried on the spirit of brothers John and Horace Dodge, who founded the company in 1914. Their influence continues today. New for 2018, the 840-horsepower Dodge Challenger SRT Demon, the fastest quarter-mile production car in the world and most powerful muscle car ever, is taking the world by storm, along with the new 2018 Dodge Durango SRT, America's fastest, most powerful and most capable three-row SUV, and the 707-horsepower Dodge Challenger SRT Hellcat Widebody. These new SRT ultimate performance models join a brand lineup that includes the Durango, Grand Caravan, Journey, Charger and Challenger, including the 707-horsepower Challenger SRT Hellcat and the Charger SRT Hellcat, the quickest, fastest and most powerful sedan in the world.

Dodge//SRT offers a complete lineup of performance vehicles that stand out in their own segments. Dodge is FCA North America's mainstream performance brand, and SRT is positioned as the ultimate performance halo of the Dodge brand, together creating a complete and balanced performance brand with one vision and one voice.

Dodge Durango and Dodge Charger performance vehicles are available for purchase or lease at our Port Jefferson Station Chrysler Jeep Dodge Ram dealership. Schedule a test drive today. Call (888) 452-2817.