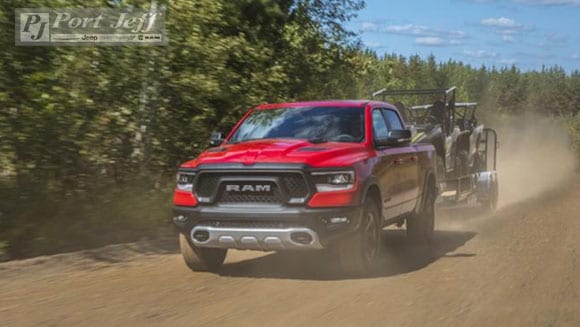 Green Car Journal Names Ram 1500 Green Truck Of The Year.
The Ram 1500 has been named the 2020 Green Truck of the Year™ by Green Car Journal. The announcement came at the 51st annual San Antonio Auto & Truck Show in San Antonio, Texas.

Green Car Journal editors consider all potential truck models in the U.S. market, weighing environmental attributes alongside traditional criteria that define what makes a great pickup, such as capability, versatility, safety, value and style. The winner was selected from five finalists by a Green Truck of the Year jury, comprised of automotive experts and Green Car Journal staff.
Environmentally conscious drivers across Long Island will welcome the introduction of the new Ram 1500. A green pickup is good for everyone on Long Island, from Setauket to Medford, from St James to Ronkonkoma.

The 2020 Ram 1500 is the no-compromise benchmark for durability, technology, efficiency and convenience with features never-before offered in a pickup. The Ram 1500 features up to 12,750 pounds of towing capability and 2,300 pounds of payload. The eTorque mild hybrid system delivers improved fuel efficiency in both V-6 (standard) and V-8 configurations. For 2020 the Ram 1500 becomes America's most powerful half-ton diesel pickup with 480 lb.-ft. of torque and most capable light-duty diesel, with towing capability up to 12,560 pounds. The all-new third-generation 3.0-liter V-6 EcoDiesel also is expected to lead the segment on fuel economy.

The Ram 1500's all-new 3.0-liter V-6 EcoDiesel leads the half-ton pickup truck segment in torque with 480 lb.-ft. and diesel towing capability of 12,560 pounds. The 2020 Ram 1500 EcoDiesel also leads all trucks in fuel range. Paired with an available 33-gallon fuel tank, Ram's driving range exceeds 1,000 miles.

New for 2020, the third generation of the turbocharged 3.0-liter EcoDiesel V-6 delivers increased torque and horsepower, along with superb fuel economy and minimal levels of noise, vibration and harshness (NVH) to meet the needs of Ram 1500 owners. In the 2020 Ram 1500, the 3.0-liter EcoDiesel V-6 is rated at a best-in-class 480 lb.-ft. of torque at 1,600 rpm, a 14 percent increase from the previous-generation EcoDiesel V-6 that peaks 400 rpm earlier. Horsepower increases 8 percent to 260 hp at 3,600 rpm. The 2020 Ram 1500 EcoDiesel is available in all models and configurations, including a first-time offering in the Ram Rebel.

In 2009, the Ram Truck brand launched as a stand-alone division, focused on meeting the demands of truck buyers and delivering benchmark-quality vehicles. With a full lineup of trucks, the Ram 1500, 2500/3500 Heavy Duty, 3500/4500/5500 Chassis Cab, ProMaster and ProMaster City, the Ram brand builds trucks that get the hard work done and families where they need to go.

Ram vehicles are available for purchase or lease at our Port Jefferson Station Chrysler Jeep Dodge Ram dealership. Schedule a test drive today. Call (888) 452-2817