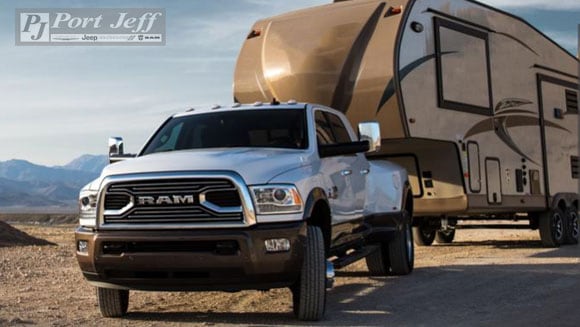 Good news if you are a contractor on Long Island: The 2018 Ram 3500 Heavy Duty Truck is ready to help you get it done.
If you are a contractor on Long Island, we have great news for you: The new
2018 Ram heavy duty truck
will make your job so much easier. If you are hauling building materials in
Riverhead
, moving heavy equipment in
Stony Brook
, delivering machinery in
Huntington
or just getting your workers to the job site in
Smithtown
, the
Ram 3500
will get it done with ease and in style.
Ram 3500's 30,000-lb. fifth-wheel towing uprating is made possible by an in-house hitch design from Ram Engineering. The upgraded capability allows the Ram 3500 to haul the heaviest travel trailers in the industry. Unlike the competition, Ram's new hitch will allow customers to move away from Class 4 and 5 trucks to haul trailers that would have otherwise been limited to 24,000 lbs.
Chrysler worked closely with Cummins, the 2018 diesel improvements include higher boost limits through a variable geometry turbo and flow rate increases through the fuel delivery system, enabling the 6.7-liter I-6 to produce an additional 30 lb.-ft. of torque. This improvement ranks the Cummins engine ahead of the competition with 930 total lb.-ft. of torque, while maintaining the diesel's hallmark durability and efficiency.
Ram 3500 takes heavy-duty towing and hauling seriously. With the start of 2018 model-year production, the 3500 will offer a segment-dominating 930 lb.-ft. of torque and the exclusive ability to tow 30,000 lbs. with a fifth-wheel hitch.
"Ram trucks maintain capability leadership by delivering the highest-ever torque rating for a pickup truck and heaviest fifth-wheel trailer towing capacity," said Mike Manley, Head of Jeep and Ram Brand. "We understand the attributes most important to our customers within the heavy-duty segment; they demand hard-working, long-lasting capability."
With its launch as a stand-alone division in 2009, the Ram Truck brand has steadily emerged as an industry leader with America's longest-lasting line of pickups.

Creating a distinct identity for Ram trucks has allowed the brand to concentrate on core customers and the features they find valuable. Whether focusing on a family that uses a Ram 1500 day-in and day-out, a hard-working Ram 3500 Heavy Duty owner or a business that depends on its Ram ProMaster commercial van every day for deliveries, Ram has the truck market covered.

In order to be the best, it takes a commitment to innovation, capability, efficiency and durability. Ram Truck invests substantially in its products, infusing them with great looks, refined interiors, durable engines and exclusive features that further enhance their capabilities.

Ram trucks are available at Port Jeff Chrysle Jeep Dodge Ram. Visit us at the dealership or call us at (888) 526-9403.