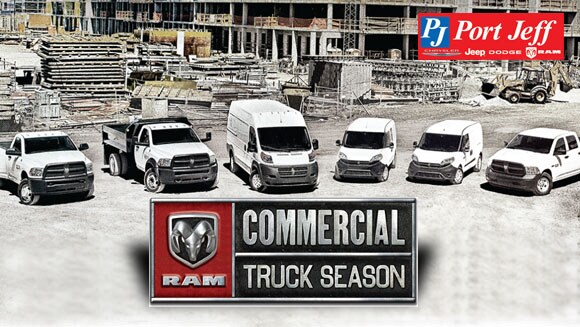 Ram 1500, 2500, 3500 and ProMaster- Masters of Every Trade.


Ram Commercial Trucks
have something to offer all tradesmen.You might say Ram Trucks are the Master of Every Trade. Contractors, builders, painters and haulers from Setauket, Smithtown, Stony Brook, Coram, and Wading River to Riverhead and all over Long Island know that Ram Truck Brand's goal is to build the best commercial trucks in the industry. In the heavy-duty pickup segment, that equates to the best capability, highest towing and most power. For 2016, Ram continues to offer the most capable three-quarter and one-ton pickups in the segment.
The
2016 Ram 1500
leads pickup truck fuel economy with winning powertrains: exclusive 3.0-liter V-6 EcoDiesel with 240 horsepower and 420 lb.-ft. of torque at 28 miles per gallon (mpg) and Pentastar 3.6-liter V-6 with 305 horsepower and best-in-class gasoline fuel economy of 25 mpg.
Ram 1500
holds the top two spots in half-ton truck fuel economy, even beating small trucks.
The
Ram 1500
3.0-liter EcoDiesel engine is mated to the TorqueFlite eight-speed automatic transmission. Together, the powertrain system delivers an outstanding combination of fuel efficiency at 28 mpg, unsurpassed torque of 420 lb.-ft. and up to 9,200 pounds of towing capability.
Ram 2500
and
Ram 3500
Heavy Duty trucks offer more innovative features than competitors' trucks, including a five-link coil suspension with optional air suspension on
Ram 2500
and a supplemental air bag suspension option on Ram 3500.

Inside, a new, optional "Work Grade" vinyl seat delivers extreme durability for severe ingress/egress duty cycles. Durability is an important requirement for commercial customers, and the higher ride heights of heavy-duty pickup trucks can lead to extra wear on the side of the seat as users enter and exit the vehicle frequently during the work day.
Further enhancing the
Ram 2500
and
Ram 3500
Heavy Duty pickup line's "Built to Tow" reputation are new power folding trailer tow mirrors. Available in black or chrome, depending on vehicle trim level, these mirrors bring the 7-inch by 11-inch towing mirrors in, close to the body for parking, car washes and other situations where larger mirrors can be an inconvenience. Ram trucks equipped with conventional 6-inch by 9-inch mirrors are already offered with the power-folding option. Ram competitors do not offer power-folding mirrors on nearly as many trim levels.
The
2015 Ram ProMaster
continues to answer the call of businesses everywhere as it solidifies its place in Ram Commercial's popular truck and van lineup. ProMaster has experienced great success in an expanding, purpose-built, full-size van segment with a number of best-in-class features focused on the commercial customer. Coming from a strong background of commercial vehicles produced by Fiat Professional, the ProMaster is based on the Fiat Ducato, which has been in production for more than 30 years.
ProMaster
boasts numerous best-in-class features, which are appreciated by the hard-working customers of Ram's full size van. Best-in-class fuel efficiency, usability, and of course, total cost of ownership, all combine to deliver a proven solution for businesses and fleets.
Ram Commercial will continue to have a larger presence in commercial vehicle segments. ProMaster supports the Ram Brand strategy to offer a one-stop shop for their large truck and van fleets. Ram's
ProMaster
and
ProMaster City
vans enhance the brand's commercial offerings.