Visit our Auto Service Facility located in Port Jefferson Station, Long Island, New York.
Maintaining your vehicles performance is the most efficient way to your investment. Port Jeff Chrysler Jeep Dodge Ram makes scheduling a tune up easy!
Scheduling a Tune Up is as easy as a phone call: (888) 220-6128, or a quick click to schedule an online appointment.
Maintaining all of your vehicles many parts is essential to its safety and your well-being. Regular tune ups are the best way to insure your vehicles longevity. Bringing your car, truck or SUV to the Port Jeff Chrysler Jeep Dodge Ram Service Center will determine its need for essential maintenance. Port Jeff Chrysler Jeep Dodge Ram is conveniently located to East Northport, Centerreach, Yaphank, Middle Island, Rocky Point and all of Long Island, New York.
Regular engine tune-ups can restore your vehicle to peak performance and save fuel. A visual inspection of your engine's components will quickly determine the need for new parts, fluids and care. After atune up your engine will start easier, run smoother and perform in more efficien wayt. A regular engine tune-up will lower emissions, improve fuel economy and restore the lost power and vitality it had when new.
Tune-ups based on your vehicle manufacturer's recommendation sresult in the long-term health of your car, saving you time and money.
Full-Service Facility.
Our Parts Department maintains a large comprehensive inventory of high quality genuine OEM parts. Our highly knowledgeable staff is here to answer your parts inquiries. Should we not carry a part for which you're searching, we can always order or locate it for you and receive it within a timely manner.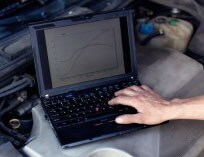 Proper car repair and maintenance is essential to getting the most out of your Chrysler, Jeep, Ram or Dodge, and ensuring it drives well for a very long time. Our Jericho Chrysler, Jeep, Dodge and Ram repair center has professionally trained technicians with the necessary skills to get your car, truck or SUV into top shape. From oil changes, alignments, and NY inspections; to major repairs on your engine and drive train; our technicians will take care of your Chrysler, Jeep, Dodge or Ram vehicle like it was their own.
- Oil Changes - Tune Ups - Radiator - Coolant/Antifreeze Change/Flush - Air Filter Replacement - A/C - Air Conditioning - Wheel/Tire Alignment - Timing Belt Replacement - Brake Inspection/Check - Exhaust & Muffler Repair & Service
Our Chrysler Jeep Dodge Ram facility is convenient to Shirley, Coram, Riverhead, Manorville, Smithtown, Hauppauge and all of Long Island.